Marcialonga Itinerary and Hotels

Hotel Maria in the centre om Moena a few yards from the Marcialonga track hosts Aquarena Wellness Centre and also the popular restaruant Kusk. The staff offer a very nice and professional hostmanship.

Hotel Maria has a spacious waxing room with waxing tables, enjoy a generous breakfast buffet, a great spa, fast wifi, etc.

Hotel Central is one of the three oldest hotels in Moena, carefully and tastefully renovated. The generous breakfast is adapted to cross-country skiers. Downstairs you find a ski room with waxing tables. There is an electric socket and an extension cord.

In the spa are both a Finish sauna and a steam sauna with different scents. We have info meetings in the library and you have free wifi.
Programme in brief
Thursday - Check-in at your hotel in Moena and dinner. Headlamp skiing for enthusiasts.
Friday -

cross-country skiing in

San Pellegrino, Moena-Canazei, Moena-Predazzo, at Stadium of Lago di Tesero, or in Lavazé.

Downhill skiing

in Alpe Lucia or Canazei in Sella Ronda.

Lecture about waxing

in the evening, both in theory and in practice.
Saturday - Boosting,

skiing

like on Friday, visit the Expo. Waxing service or waxing by yourself.

Sunday - Marcialonga and celebration dinner!
Monday - Spin down (cross-country) for those who wish. Check-out from your hotel and time to go home. You can extend your stay if you wish - just let us know and we will add nights at the same hotel at an additional cost.
For the ninth consecutive year, we have received confirmed registrations in Marcialonga. The tours are popular and sell out fast. There are always people who do not know anyone from the start and there are always guests who choose not to compete. Everybody shares a hobby and the atmosphere is at its best. Welcome to join us in Italy!

Personal and flexible with a lot of consideration.
We learn each other's names fast and your tour leaders do our outmost to help each guest achieve his or her maximum benefit of the whole trip.
Everything is close by
We stay in the village of Moena with 3000 inhabitants. The start of Marcialonga is here. You cannot stay more centrally than at our hotels. There is a wide variety of restaurants, cafés, bars and shops. All meals usually taste extremely well - the Italians are good chefs and our guests appreciate the wide variety from not eating at the same place every evening. The last evening, we celebrate all good achievements in the race at a restaurant that you always will remember - we promise!

Unbelievable skiing
From the busstop outside the hotel you can by bus reach different areas for cross-country skiing and downhill skiing. Marcialonga crosses through Moena and for those who do not take part in the race, you have the best audience spots. If you want to let local experts wax your skiis, there is a shop close by. Our guests usually was their own skiis though. During the race there is wax service along the trails where you can get some extra kick wax for free.
Check-in at your hotel in the center of Moena. If you are eager you can hit the tracks with a head-lamp already tonight.
Friday - cross-country skiing or down hill
There are many areas for skiing at your disposal today. The Marcialonga tracks passes through Moena and you can go up-hills towards Canazei and/or downhills to Predazzo, about 8,5 km one way. Val di Fiemme is the valley south of Moena, a well-known cross country center with 150 km of trails that you reach by bus in about half an hour. Here the world championships have taken place in 1991, 2003 and 2013 and you can go skiing at the Stadium of Lago di Tesero if you wish.

Many of guests take the ski bus to Passo San Pellegrino, a nice ski centre with trails for all kinds of skiers. You can also go by local bus to Lavazé (change bus in Cavalese) at 1800 meters above sea-level. There you can ski on a plateau where there are 80 km of trails. The Lavazé race is held here every year. In Lavazé you find waxing room, waxing service and restaurants.

If you wish to go down-hill skiing, the enormous system Sella Ronda (Dolomiti Superski) from for example Canazei can be reached by bus in less than 30 minutes. Closer to Moena, you can go down-hill skiing in San Pellegrino. The locals in Moena usually go to Alpe Lucia for down-hill skiing. It is very close to Moena by ski-bus. You can rent equipment where the lifts are (or in Moena if you like).
Saturday - more skiing and preparations
One more day to enjoy skiing and boost yourself for the race. Globalrunners collect your start-kits at the expo in Cavaleze. Maybe some of you would like to join us or go on your own to draw in the eclectic sense. At the Stadium of Lago di Tesero before we reach Cavaleze, the races for children and youths are held today as well as the classical Maricalonga Story where only equipment and clothing from 1971 or earlier is allowed - the time before Marcialonga started. The skiers must not have modern gear, it is carefully controlled! Join the race if you wish or cheer at the skiers.

You can leave your skiis for waxing service, but most of our skiers use to wax their own skiis. We will announce the waxing suggestions from the waxing companies in the waxing room. At the information meeting tonight, you will get your start kit. Every skiier is building up for tomorrow!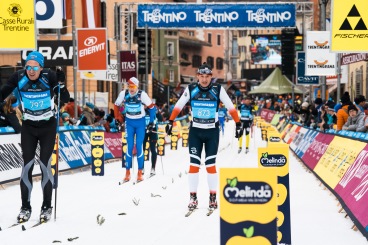 Early breakfast and walk to the start. There will be 600 skiers in each startgroup, starting every 5 minutes. Leave your bag at the start which the organizer will transport to the Finish area.

The Italian skier Franco Nones won gold in 30 km in the Olympic Games 1968 in Grenoble. He wanted to create something similar to Vasaloppet. 52 years later, Marcialonga is one the most popular races in the world.

You start in Moena and continue 20 km through the villages of Soraga, Vigo, Pozza, Campitello and Canazei where the track turns downhill towards Moena again and Predazzo. The last part takes you through the villages of Ziano and Castello-Molina. After 67,5 km, the climbing starts towards the finish-line in Cavalese. You made it!

If you choose to participate in the 45 kilometer race, the Finish is in Predazzo.

You will enjoy splendid skiing in an awesome landscape with several private depots put up by the locals among the regular depots offered by the organizer with energy and waxing service. Once in Cavaleze, the medal will feels perfect. You get your bag that you left at the start, shower and pasta with skiers from all over the world. Free transfer buses for all heroes are at your disposal back to Moena.

FAQ about Marcialonga and Marcialonga rules.

The spa in the hotel is a nice treat after the challenges today.

In the evening, we will celebrate all good accomplishments. We will go to a very special restaurant with delicious food and drinks, where the concept locally produced will get a more literal feeling. Through a window from the restaurant, you will see the origin of our meals - the well kept, ruminating cows in the barn.
Enjoy the last day in Italy. You can do some cross-country skiing as a soft spin down or just relax.

Check-out from your hotel. We can arrange transfer to an airport or a train station at an additional fee. Ora-Egna train station is on the Verona-Munich line.