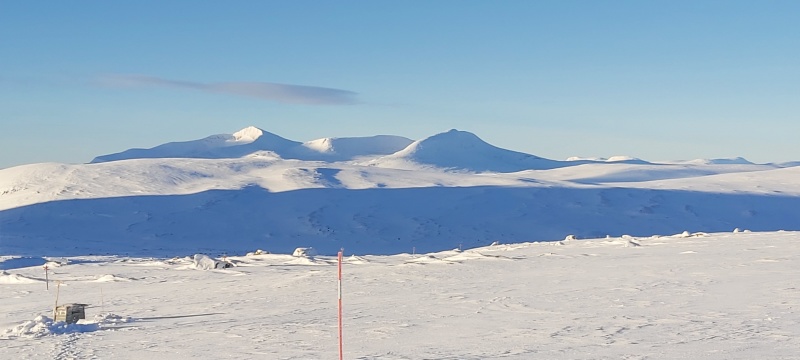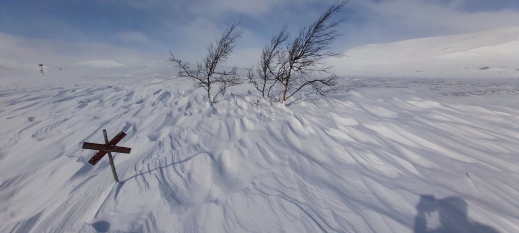 Ski Tour Jämtland runs through Europes last wilderness
Ski Touring in Sweden is synonymous to many Swedes with the region of Jämtland-Härjedalen. Trails are drawn on top of tree-less mountains offering long-distance views towards shimmering peaks in the distance. Our selected course holds less visitors than the classic "Jämtlandstriangeln" less disturbed by skiers and snow mobiles, giving you the rare silence of the vastness.

The tour starts in Jämtland, the second largest region in Sweden, and continues into Härjedalen, the region with the highest average altitude –half of it´s area is situated above 650 meters above sea level. The trail begins in curvy birch tree forest and passes Swedens highest peak with its glacier south of the Arctic Circle, Helags,and ends in a long, flat downhill journey to Ramundberget.

We stay three nights in simple but nice cabins with self-catering, and after a shower and sauna at our second Mountain Station we enjoy a chef-prepared dinner at Helags.
This tour has no steep up- or downhill trails and suits perfect for non winter experienced travellers. You may ski with a light pack-pack, as you might choose to cater yourself at the Mountain Stations only carriying 3 dinners, 4 breakfasts and 5 lunches or even less if you buy all your food at the cabins and stations. Not a rich variety but easyly reached!
Compared to our AbiskoTour, this tour is easy reached with it´s halfway distance from southern Sweden, and also enables lighter back-pack.
Number of days: 7 days / 6 nights
Dates 2022: March 13-19
Start and finish: Vålådalen - Funäsdalen
Number of participants: Min 6, max 12
Price: Euro 995
Dinner arrival day at Vålådalen
Lodging at Vålådalens Fjällstation
3 lodgings in Mountain Cabins
2 lodgings at Mountain Stations
Lodgin at Funäsdalens Hotell & Hostel
Dinner at Helags Mountain Station
Mountain Terrain Map
Globalrunners english speaking tourleader.
Membership Swedish Tourist Association
Transfer Ramundberget - Funäsdalen
Not been on a ski tour before?
No worries - with an experienced tour guide and trekking together in a group of ski enthusiasts, the area is great to explore the wilderness and develop your skiing touring skills. A perfect match for a ski tour rookie.
What is skitouring and the "right to public access
We´ve gathered some experiences about ski touring and a brief intro on the unique swedish "right of public access, just follow this link.
Borrow your ski equipment for free!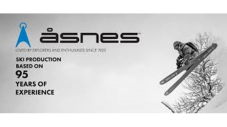 Don't you have the right kind of skis for ski touring? No problem, you can borrow brand new skis from the best brand Åsnes for free from us! The package includes skis with binding, poles (adjustable in length - telescope style), climbing skins and ski bag. We have eight pairs of skis for skiers of different sizes. First come, first served.
This way you do not have to worry about which skis you should acquire or rent if you do not have your own. If you had rented your ski equipment at the start, it would have cost you almost 300 Euro, including transport back to the start of the skis.
(We do not hold ski boots as skiers often have their special needs and wants customized boots.)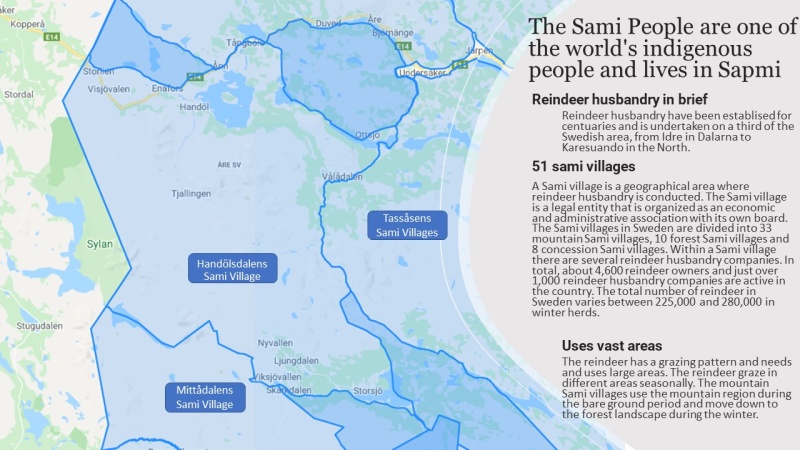 You need the right gear for your ski week to make it enjoyable. Skis with an adapted span, poles that do not sink into deep snow, well worn shoes and a rucksack that feels good holding 10-12 kg of weight. You will carry food even though you may buy some in the cabins. Do not miss the good in life - chocolate, nuts and something that blends well with the evening coffe/tea.

Check out our recommended equipment here
The Sami Languages in brief
Many believes that the Sami language like Finnish is one single language all Sapmi people speak. Sami is related to Finnish, but actually it´s about several sami langages. Far from all sami speak the languages due to the language oppression during the 20th centuary.
- There is no qualifyed estimation on how many people speak Sami, but a guesstimation points out that scarcely 20 000 of the 80 000 samis living in the entire Sapmi nation speaks the sami languages, says Mikael Svonni, professor emeritus at Tromsö university.

Three languages
Sami is divided into major language areas : East Sami, Central Sami och South sami. These language areas are then divided into at least nine languages. In Sweden we find northern sami, lule sami, pite sami, ume sami and south sami.
The majority of old Sami people has never got the the privelege to study, read or write sami. Language at school has always been swedish. Sami classes were not even a subject to study until in 1962, when it was established as mother tongue with two lessons per week in school.
Perhaps this page made you long for skiing without a back-pack? Every winter for the past 10 years we offer tours to long-distance races in Switzerland, Italy and the Check Republic..

Many skiers start their international long-distance adventures with the classic Marcialonga in the Dolomites,where we are a proud official tour operator.
Do you have questions about this or other tours, please give us a call on: +4670-545 50 28 or e-mail anders@globalrunners.se and we´ll be glad to help you out.
Simple and robust mountain huts are our daily destinations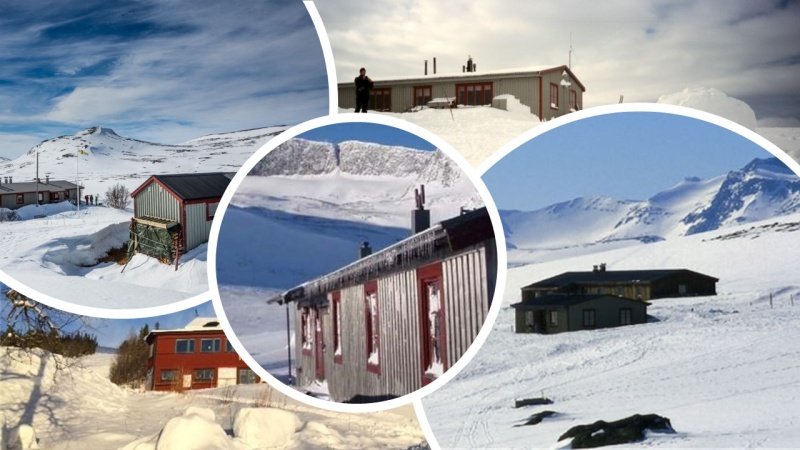 After a strenghtening breakfast and prep of today's lunch, we aim for departure around 09:00, provided the weather allows. If you feel strong and secure, you can start earlier. If you have waxing-free skis, you are ready for departure, otherwise you will paste on today's ski wax. The tour guide always goes last. Normal speed is between 3-4 kilometers per hour depending on terrain and climbing. We rest for lunch at about halfway through the stage, either in a rest cabin if there is one, or in protection from the wind behind some drive or cabin.

Program of the week:

Day 1: Gathering and dinner at Vålådalens Fjällstation
The group arrives at the mountain station and we gather for information about the week and get to know each other over the two-course dinner.

Stage 1 (Sunday) Vålådalen - Vålåstugorna - 19 kilometer
We start in a winding beautiful birch forest with a flat ascent, and enjoy our lunch sheltered from the wind in the forest. The trail is slightly hilly in the birch forest before we start our climb up Smällhögarna and the waiting bare mountain. We continue the now flat trail until a well-deserved rest at the stage goal Vålåstugan.

Stage 2 (Monday): Vålåstugan- Gåsen, 14 kilometer
Today, a slightly tougher but shorter day awaits with 5-6 hours of skiing, where most of the leg go on the frozen lakes. At first flat about 2.5 kilometers, before we round Smällhögarna and climb up to Härjångssjöarna and the rest cabin for lunch.

Stage 3 (Tuesday): Gåsen - Helags, 16 kilometer
The tour starts with a long, lovely descent from Gåsen down to Gåsån creek with a magical view of the Sylarna massif, before we put on the risers and climb up Holkefjället. Slight descent down to today's rest cabin, Holke, and with the Helag massif in front of your eyes.
With full energy in our stomachs, we take on the last climb of the day before the trail flattens out and connects with the trail from Sylarna to the shower, sauna and gourmet dinner at Helags Fjällstation.

Stage 4 (Wednesday): Helags - Fältjägarn, 13 kilometer
We round Helags with a slight ascent and view the peak at the right of us, with the bare mountain that waves alternately up and down keeping the impressive Predikostolen on our right hand side. Maybe we´ll see some grouse or we enjoy the expanses with a view of Mittåkläppen and Skarsfjället. At a far distance of several kilometres, little Fältjägarstugan reigns with the promise of food and rest.

Stage 5 (Thursday): Fältjägarn - Ramundberget, 16 kilometer
Today, light and flat skiing awaits, which takes us down to the rest cottage Svaletjakke. We continue the journey down towards Ramundberget which ends with a steep descent loop in streamers down to the waiting bus towards our last night accommodation in Funäsdalen. We share dinner together at the hotel's excellent restaurant, and then gratefully slide down into the beds.

Day 6 (Friday): Breakfast and travel back
The bus leaves late in the morning after a magical and affordable hotel breakfast.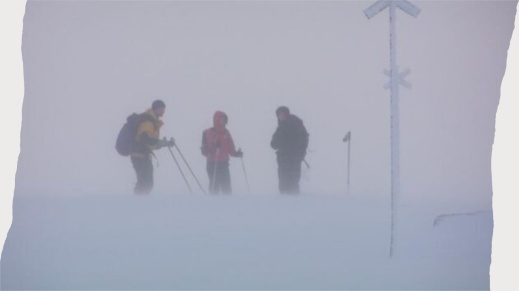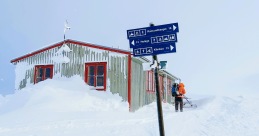 Plan for weather and wind
Weather is always a living topic of conversation in the mountain world. Is it blowing today, do we get snowy weather and clear visibility? Everything can come suddenly and there is a risk that we will stay inside the cottage one day.

At breakfast, you will receive an update on the day's weather and the tour guide will decide if the day's stage is taken as planned or needs to be changed. If we get stuck in a cabin,eventually we need to alter our stages.
On this tour, we treat ourselves with cottage accommodation. Warm comfortable cottages with self-catering is what applies with pre-booked places.

Cottages
Globalrunners has pre-booked your accommodation. The cottage owners know that we will come and can plan the room distribution. The mountain world can mean tough weather and plans may need to be changed during the trip. If we are hindered by the weather, we can, in dialogue with the cabin host, change our booking to another mountain cabin as long as the dates for our trip match.

The cottage hosts will spread out guests as best they can and as far as possible only guests from the same party may share a room.
A blanket and pillow are on site in the mountain cabin. It is mandatory to bring your own sheets and pillowcases in addition to sleeping bags, travel sheets or duvet covers for existing duvets. You must be able to cover all bedding during the pandemic.

STF plans to open saunas in connection with the mountain cabins during the winter season 2022. Decisions are based on the recommendations given by the Swedish Public Health Agency (due to Corona) and may change. Sauna baths will be regulated.
The ski week starts on Sunday evening with dinner in Vålådalen. You may want to test your ski equipment before the evening's two-course dinner awaits in the beautiful restaurant. We leave together on Monday morning through the birch forest and up on the bare mountain where we will be all week .. We tour between the cottages for 5 days and end in Ramundberget.
What is Tour Skiing?
Tour skiing is like hiking, but on snow. With touring skis on your feet, you can explore completely unpaved mountain terrain. It differs from cross-country skis, which require groomed tracks and often take place near facilities. While cross-country skiing is a form of exercise, tour skiing is rather used on discovery trips. A tool to make adventures possible.

What physical level is required for this trip?
Expect long wonderful days, about 5-8 hours of skiing per day. The stretch includes flat sections and some parts are really uphill. You need to practice skiing, preferably with a full backpack, and not least put your feet in the ski boots to avoid / reduce chafing. Maybe you work-out, jog or do team sports - you should have a good general condition for this trip.

Can anyone come along?
Yes, if he/she is in shape. Feel free to practice skiing with a full backpack at home before you come to the trip. If you have not tour skied before, this is an excellent way to learn how to ski tour in the mountains.

Will it be technically difficult skiing?
With the right span and good grip on your skis, you go up the three slopes that the trails cover. The same number of descents zig-zag most in large arcs down to the valley or plow down, depending on snow depth and crust. The spring winter can give us heavy snow, which can grab your skis and calves when the sun warms in the steeper slopes and freezes at night.

Can I go alone on this group trip?
Absolutely, you get to know new people who share your interests.

What do I need to bring?
Our proposal for an equipment list, you see below. In your memo that you receive after you have booked the trip, we give suggestions on food and other preparations.

Do I have to buy expensive equipment?
No, rent. More info will be in the PM after you sign up.

What will the weather be like?
The temperature is around zero during the day, with -10 degrees at night as the lowest and +5 degrees during the day and even more if the sun is shining. The wind is usually southwesterly, but in the mountains the weather can change quickly.

You carry all your packing yourself.
The pack often weighs 10-12 kilos. We advice you to pack correctly and smartly.

Is the trip Corona adapted?
Yes indeed. The cabins have clear routines for stays in the cottages with restrictions and early booking of accommodation. The SJ trains and the Härjedalingen bus are also limited in space to minimize risks. Globalrunners follow the Swedish Public Health Agency's recommendations and the trip will be carried out unless the Swedish Public Health Agency imposes new restrictions.

How do I book my trip to and from Vålådalen to Funäsdalen?
Once you have paid the registration fee for the trip, we will email you a pdf with tips on how to book trains at a discounted price and rebookable tickets.

What happens if Globalrunners has to cancel the trip?
Should the Swedish Public Health Agency recommend stricter restrictions for travel to and from Vålådalen / Funäsdalen or if the mountain cabins are closed, Globalrunners will cancel the trip and your registration fee will be postponed to a new trip the following winter.
Below you find our proposal for a packing list that we ourselves have carried on various trips in the mountains during the winter.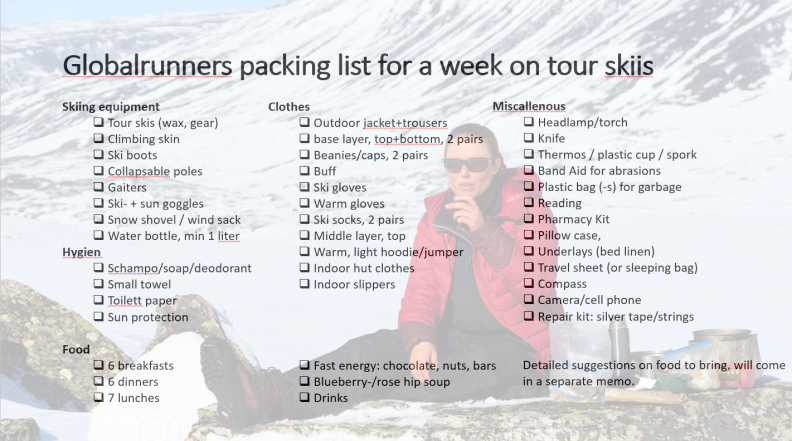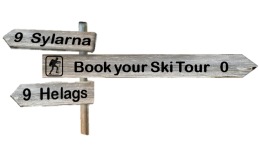 7 days - 6 nights
March 13-19 2022
995 Euro

Once you have sent in the completed booking form, we will email a booking confirmation and invoice for the registration fee, which is Euro 400. Final payment is made 60 days before departure. Before the final payment, we email an invoice well in advance. This is the price of the trip minus the previously paid registration fee.

When you have filled in and submitted the information below, you will receive a booking confirmation and an invoice for the registration fee, which is Euro 400. You normally have 14 days to pay the invoice for the registration fee. If booking later than 60 days before the trip, it must be paid immediately. Final payment is made two months before departure. We email out an invoice for the final payment, which is the price of the trip minus the registration fee already paid.

General Terms including cancellation rules.
Information on how we treat your privacy.

Fields marked with a red star* are mandatory
No pain - no gain
You get pain from skis without a bracket or with too much bracket. Blisters come with boots that the feet are not used to and the back complains if the rod length is wrong. What should you think about when it comes to your ski equipment?

The skis must have the right bracket/span. They should have a fastening zone that goes down into the snow when you have the weight on the ski and which is above the snow when you slide forward. In solid uphills, you can strengthen the attachment zone with riser skins that grab the surface and pick you up with straight skis, that cutting long uphill stretches takes drains your energy. The attachment zone can be grazing-free, in which case it often has fish scales or skins. If it is not grazing-free, ski wax must be used adapted to the current temperature.

You can borrow brand new skis from the best brand Åsnes for free from us! The package includes skis with binding, poles (adjustable in length - telescope style), climbing skins and ski bag. We have eight pairs of skis for skiers of different sizes. First come, first served.

Your boots must be tucked in. Maybe you have them as everyday shoes a few weeks before the ski trip? You should apply abrasive tape as soon as you feel the slightest hint of abrasions. We recommend you have telescopic poles that you extend up steep slopes.

If you do not have touring equipment, we recommend that you rent these. Once you have booked the trip, we suggest good places to rent and what you should think about when / if you rent skis, boots and poles.