Ski touring north of the Arctic Circle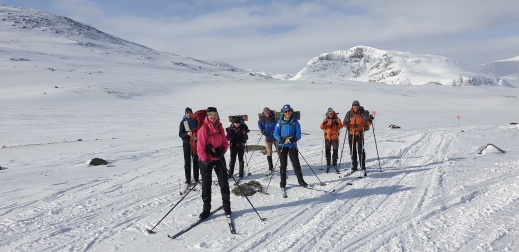 A winter adventure in the Swedish wilderness
For more than 100 years, people from all over the world have skied and hiked in our magical northern wilderness. The Kings Trail runs through Sweden's most beautiful mountain landscape with the nations highest peak, Kebnekaise, as an intermediate destination. It is an adventure over 400 kilometers for both beginners and experienced mountain foxes.

Globalrunners chooses the first section of the trail, which is easily reached by train to Abisko. The daily stretches are manageable for everyone, with distances of 12-25 kilometers between the huts that welcome guests also in wintertime.

Skiing Kungsleden means complete silence, expansive views that spread conditioner in screen-tired eyes with no mobile coverage. Your head rests from updates on social media. Only white expanses, sometimes with reindeer passing by and mountain grouse sprouting out of the snow. Seven days of active rest in the beauty of Mother Nature with plenty of fresh air.

You get security and company when you ski together in a group. If you want to gas up, follow the trail's cross markings to today's agreed lunch place or mountain hut and wait for the group to catch up. Others want to share their experiences and stick together. You choose for yourself.

Life becomes easy. Skiing, cooking, hanging out with like-minded people every day for a week. No mobile, no Netflix. Simply active meditation and a wonderful memory for life.
Get inspired by watching this wonderful film by Jonas Andersen.
Number of days: 8 days / 7 nights
Dates 2024: March 23-30
Start/Finnish: Abisko/Nikkaloukta.
Group size: Min 8, max 14.
Price: 1095 Euro.
7 nights accommodation in huts and mountain stations.
Dinners at Abisko and Kebnekaise.
Breakfasts at Abisko och Kebnekaise.
Detailed PM six weeks prior tour with information - training, exercises, food.
Seven days guided ski tour.
Snowmobile sled Kebnekajse-Nikkaloukta.
English-speaking tourleader.
Borrow your ski equipment for free!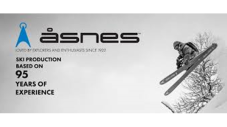 Don't you have skis for ski touring? No problem, you can borrow brand new skis from the best brand Åsnes for free from us! The package includes skis with binding, poles (adjustable in length - telescope style), climbing skins and ski bag. We have eight pairs of skis for skiers of different sizes. First come, first served. This way you do not have to worry about which skis you should acquire or rent if you do not have your own. If you had rented your ski equipment at the start in Abisko, it would have cost you almost 300 Euro, including transport back to the start of the skis.
(Note: Ski boots are NOT included in the package, as all skiers search for their customised pair of shoes)
You need the right equipment to make your ski week as enjoyable as possible. Skis with the right camber, poles with a solid snowshoe, shoes and a backpack that feels good with about 12 kilo of luggage. You need to bring food even if you also can buy some in the huts. Do not forget the good things in life - chocolate, nuts and something yummy after coffee / tea.

When you have booked the tour, you will get a detailed list with our suggestions on what to bring and how to pack.
Our tour takes us north of the Arctic Circle. Abisko is one of the world's best places to see the Northern Lights. The official season ends when we start, but every year we have had magic Aurora Borealis.
Call +46 70-545 50 28 or email info@globalrunners.se We are here for you!
Welcome to Sápmi - the land of the Sami people. In the Kiruna region, several cultures meet. The Sami language that is dominant here is Northern Sami. Many Sami work hard to continue to make the culture visible and take a place in society. We pass the areas of the Sami villages Gabna, Laeva and Girja on our trip.
Maybe your desire for more skiing is started, even without luggage. Every winter we have trips to long distance races in Italy. Many Swedes begin abroad with Marcialonga in the Dolomites, and we are official tour operator.

We also have cycling tours in Sweden.
Warm, nice huts await you with sauna, energy and rest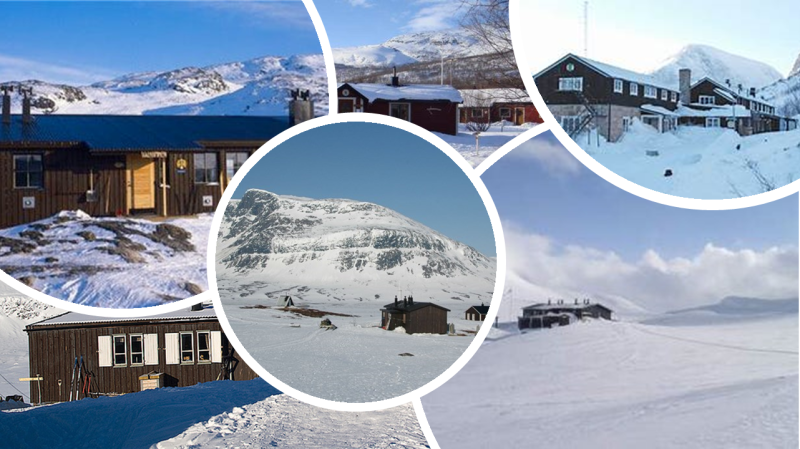 Every day we start at 09:00 am provided the weather allows. If you feel strong and secure, you can start earlier. The tour guide always goes last. Normal speed is between 3-4 kilometers per hour depending on terrain and climbs. We rest for lunch at about halfway through the stage, either in a rest cabin if there is one, or in protection from the wind behind some drift.

Day 1 (Saturday): Gathering and dinner at Abisko
The group arrives to the mountain station and we meet up for information about the coming week and get to know each other over a two-course dinner.

Stage 1 (sunday) Abisko - Abiskojaure - 14 kilometer
A fairly easy and flat stretch as a start of the week, with 4 hours of skiing over 14 kilometers. The trail is slightly hilly in the birch forest before we go out on the lake. But oh, how long the lake seems when your legs are unaccustomed and tired and the backpack weighs. Sauna awaits in the Abiskojaure huts.
Todays climb: 130 meters up and 60 meters down.

Stage 2 (Monday): Abiskojaure - Alesjaure, 21 kilometer
Today, a slightly tougher and longer ride awaits with 5-6 hours of skiing, where most go on the frozen lakes. At first flat about 2.5 kilometers, where we climb steeply up the mountain Kieras, and then again easy and a flat ride over the lakes Miesa-, Radu- and Alesjauri.

Todays climb: 360 meters up and 70 meters down.

Stage 3 (Tuesday): Alesjaure - Tjäktja, 13 kilometer

A short day trip, about 4 hours of skiing is challenged by a substantial climb. We ski 13 kilometers in high mountain nature. The trail starts with a steeper climb that continues for about 6 kilometers. In clear weather we get a lovely view down towards Alesjaure. Slightly restful downhill run a couple of kilometers before the final 3 kilometers take us up to Tjäkta hut.

Todays climb: 320 meters up and 90 meters down.

Stage 4 (Wednesday): Tjäktja - Sälka, 13 kilometer
4 hours of skiing and 13 kilometers in the high mountain area. We continue our climb just under 4 kilometers up to the Kings Trai´s highest point, the Tjäktjapass, where we pause in the rest cabin and in clear weather enjoy the mile-wide views over the U-shaped Tjäktjavagge valley. Barely 200 meters of steep descent awaits before we get the day's final restful 8 kilometers to the sauna and cottage in Sälka.

Todays climb: 120 meters up resp 270 meters down.

Stage 5 (Thursday): Sälka - Singi, 11 kilometer
Perhaps the most beautiful day and you have the shortest leg of the week to enjoy.
This stage takes about 3 hours with 11 kilometers of easy skiing in the Tjäktjavagge valley with magical views of the Kebnekaise Mountain and the glaciers around.

Todays climb: 30 meter up respektive 180 meter down.

Stage 6 (Friday): Singi - Kebnekaise, 13 km
Today we will go up and then down into the mountains for about 4 hours with 14 kilometers that starts up at the Singi mountain and is followed by the wonderful, partly technical descent through Ladtjovagge's valley to a well-deserved sauna and two-course dinner.

Todays climb:180 meter upwards resp 230 meter downwards.

Stage 7 (Saturday): Kebnekaise - Nikkaluokta, 19 km
Time to go home. Snowmobile sled 19 km to Nikkaloukta or if you wish, you can ski along the trail which goes easily down through frozen bogs and birch forest. From Nikkaloukta there is a bus back to civilization.

Plan for weather and wind
Weather is always a current topic of conversation in the mountains. Is it windy today, are we getting snowy conditions and poor visibility? Everything might come suddenly and there is a risk that we have to stay inside the hut one day. At breakfast, you will receive an update on the day's weather forecast and the tour guide will decide if the day's stage is taken as planned or needs to be changed. If we get stuck in a hut, stages 4, 5 or 6 can be merged into a longer distance, depending on the weather and wind. These are relatively short and easy to ride.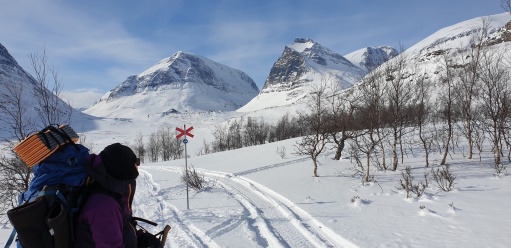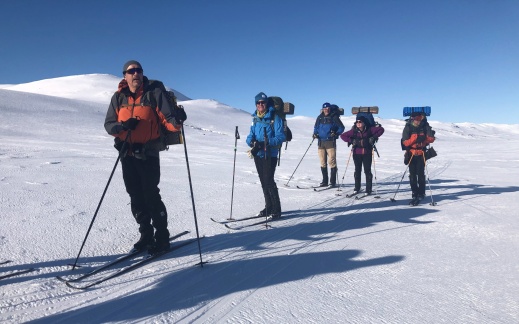 Warm huts with sauna, food and rest
On this trip we treat ourselves to hut accommodation. Warm comfortable huts with self-catering is what applies with pre-booked guests.

Globalrunners has pre-booked your accommodation. The hut hosts can plan the room distribution. The mountain world can mean tough weather and plans may need to be changed during the trip. If we are hindered by the weather, we can change our booking to another mountain hut as long as the dates for our trip match.

The hut hosts will spread out guests and as far as possible only guests from the same party may share a room. A blanket and pillow are on site. Bring sleeping bag or travel sheet and pillow case.
The ski week starts on a Saturday in Abisko. You may want to test your ski equipment before the evening's two-course dinner awaits in the beautiful restaurant. We leave together on Sunday morning through the King´s Trail Portal and into Abisko National Park. We tour between the huts for 7 days and end in Nikkaluokta. Maybe we have time for a joint lunch (not included in the trip price) or some shopping in the well-stocked shop at the samish Sarri family.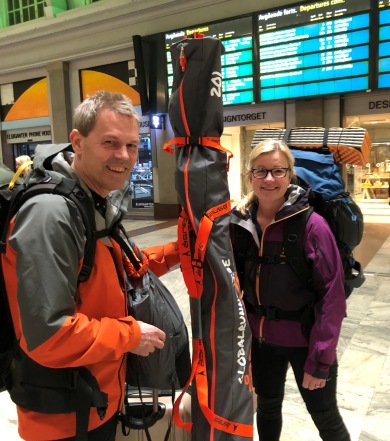 FAQ - Can I do this trip?
What is ski touring?
Tour skiing is like hiking, but on snow. With tour-country skis on your feet, you can explore completely unprepared mountain terrain. It differs from cross-country skis, which require groomed tracks and often take place near facilities. While cross-country skiing is a form of exercise, tour skiing is rather used on discovery trips.

What physical level is required for this trip?
Expect long wonderful days, about 6-8 hours of skiing per day. The stretch includes flat sections and some parts are really uphill. You need to practice skiing, preferably with a full backpack, and not least put your feet in the ski boots to avoid / reduce chafing. Maybe you go to a gym, jog or do team sports - you should have a good general condition.

Who can join the trip?
Participants shall be in good physical and mental condition and be able to carry a backback of around 12 kg during 8 hours in motion. Practice skiing with a heavy backpack before the trip. If you do not have experience from skitouring before, this is an excellent way to learn how to travel on skis in the wildernes.

Will the skiing be technically difficult?
With the right span on your skiis providing good grip, you go up the three slopes that the trails cover. Down from Tjäktja pass, most people zigzag in large arcs down to the valley or plow down, depending on snow depth and crust. The spring winter can give us heavy snow, which can grab your skis and calves when the sun warms in the steeper slopes and freezes at night.

How do I find my way to the next hut?
Your guide will show you. The trail is also marked with red "crosses" along the right way. We charge a compass course if visibility should decrease, too. In bad weather we all go together in the group. In too bad weather we stay in the cottage until the visibility is improved.

Can I go alone on this group trip?
Absolutely, you get to know new people who share your interests.

What do I need to bring?
Our proposal for the equipment list, you find below. In your memo that you receive after you have booked the trip, we give suggestions on food and other preparations.

Do I have to buy expensive equipment?
No, we recommend that you borrow your skis and rent your additional gear. More info will be in the memo after you sign up.

What kind of weather can I expect?
The average temperature is around zero during the day, with -10 degrees at night as the lowest and +5 degrees during the day and of course even warmer if the sun is shining. The wind is usually southwesterly, but in the mountains the weather can change quickly.

You carry your own luggage
The backpack should not weigh more than 12-15 kilos. We teach you how to pack in a correct, light and smart way.

How do I book my trip to and from Abisko/Kiruna?
Once you have paid the registration fee, we will email you a pdf with tips on how to book train tickets at a discounted price.

General conditions
See Globalrunners general conditions

1095 Euro.

Once you have sent in the completed booking form, we will email a booking confirmation and invoice for the registration fee, which is 400 Euro. Final payment is made 60 days before departure. Before the final payment, we email out an invoice well in advance. This is the price of the trip minus the previously paid registration fee.
Once you have filled in and submitted the information below, you will receive a booking confirmation and an invoice for the registration fee, which is 400 Euro. You normally have 14 days to pay the invoice for the registration fee. If booking later than 60 days before the trip, it must be paid immediately. Final payment is made two months before departure. We email you an invoice for the final payment, which is the price of the trip minus the registration fee already paid.

Cancellation fees and other booking rules can be found in our General Conditions.
Information about how we process personal data

This tour is often sold out at an early stage.

Mandatory fields in the form are marked with a red star*
No pain - no gain
Pain you get from skis without a bracket (the curve of your skiis) or with too much bracket. Abrasions come with boots that the feet are not used to and the back complains if the rod length is wrong. What should you think about when it comes to your ski equipment?

The skis must have the right camber. They should have a fastening zone that goes down into the snow when you have the weight on the ski and which is above the snow when you slide forward. In solid uphills, you can strengthen the attachment zone with removable skins that grab the surface and pick you up with straight skis, that cutting long uphill stretches takes the energy. The attachment zone (the camber) can be wax-free, in which case it often has fish bones or skins. If it is not wax-free, ski wax must be used adapted to the current temperature.

You can borrow brand new skis from the best brand Åsnes for free from us. The package includes skis with binding, poles (adjustable in length - telescope style), climbing skins and ski bag. We have eight pairs of skis for skiers of different sizes. First come, first served.

Your boots must be tucked in. Maybe you have them as everyday shoes a few weeks before the ski trip? You should apply abrasion tape as soon as you feel the slightest hint of abrasions. Advantageously, you have telescopic poles that you extend up steep slopes, such as when ascending after Alesjaure or up towards Tjäktjapasset.

If you do not have touring equipment, we recommend that you rent these. Once you have booked the trip, we suggest good places to rent and what you should think about when / if you rent skis, boots and poles.
A beginners intro on How to Tour Ski and the Swedish Right of Public Access
The Nordic countries share the wonderful gift of Right to Public Access. You are allowed to pass land owned by private people or companies, but there is a freedom under responsibilty - rights and obligations. Follow this link to find out your rights visiting the pristine landscape of Sapmi, and perhaps also catch some helpful hints about ski touring and hut stays.
A brief travel story from our tour in March 2022