On small roads, cycle paths and pilgrimage routes
Among all the ways to experience Lake Vänern, cycling around the lake is probably the very best! You take in the surroundings with all your senses and can stop whenever you like and talk to people, have a swim or pick berries and mushrooms. You will pass through three provinces - Dalsland, Värmland and Västergötland. No two days are alike. The route goes along the sea, in narrow ravines, across vast plains, through deep forests, on hilly gravel roads and over the idyllic mountain Kinnekulle with its magnificent manors, orchids and ​​ramson havens. The roads are a mixture of small country roads, cycle paths and gravel and forest roads. Parts of the tour follow the bicyle routes Vänerleden, Linnéleden, Sverigeleden, Dalslandsleden and Biosfärleden.

Our cycling trips around Lake Vänern are well known for their nice, personal and varied accommodations, our detailed travel descriptions and delicious places that you won't find on your own. We will reveal where you find the best ice cream, the nicest beaches, the most delicious lunch, the coolest museums, the richest raspberry bushes, the most impressive statues, the unforgetable aqueduct and where you can enjoy manor life in a beautiful setting from the 14th century with a haunted house on the grounds. You spend most of your time in the countryside, but also visit the towns Åmål, Säffle, Karlstad, Kristinehamn, Mariestad, Lidköping and Vänersborg.

Add a night or more if you want to cycle shorter distances. You will encounter an area rich in history, beautiful nature and local gastronomy. You spend the nights in carefully selected accommodations with different character, from mansions and hotels to farmhouses and B&B:s. Take the chance and enjoy really nice cycling with beautiful views, interesting cultural landscapes, good berries for free and nice swimming, while you learn more about the areas around the lake.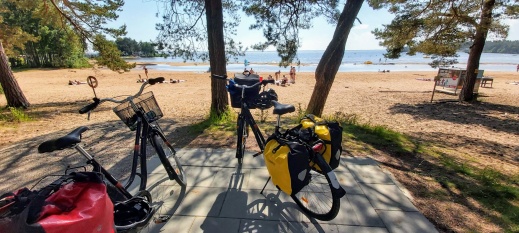 Length of Tour: 8 days/7 nights
Dates: You choose in May-September
Start and Finish: Whereever it suits you.
Price: 995 Euro.
7 nights in shared double rooms at caref selected accomodations.
Maps and GPX files for GPS/apps.
Detailed, personally designed info kit.
8 days cycling on selected routes.
Big, nutricous breakfast every day.
Literature list with good reads and equipment list
Simon Parker cycled around Vänern in the summer of 2023. For people living in densely populated areas, Vänern by bike is a healthy, peaceful break from busy citylife. Globalrunners is the only tour operator arranging tours around Vänern which Sunday Times published with a link to our website.
A suitable bicycle has at least 7 gears, runs on gravel roads and has a rear rack for panniers. Bring your own or rent one in Karlstad, Kristinehamn, Sjötorp, Lidköping or Vänersborg. Hybrides from 20 €/day, E-bikes from 50 €/day.

Karlstad has all types, Kristinehamn, Sjötorp and Lidköping e-bikes, Vänersborg hybrids.
If you have any querries, please call +46 733 61 22 55 or send us an e-mail to info@globalrunners.se and we will be happy to answer any questions.
Hand-picked, personal accommodations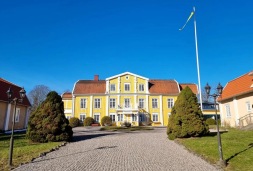 We have hand-picked a great mix of accommodation around Lake Vänern, perfect for cyclists. Below you can see brief descriptions of these. They are not in chronological order. Everyone who books the tour will of course get the names and full contact info to these gems.
In the summer idyll where Göta Kanal meets Vänern, you stay right by the locks and can see the spectacle from the front row.
Another night you fall asleep in cozy rooms on a farm where the mother bakes fresh bread for breakfast every morning togehter with the farm's own eggs and honey (and plenty of other food). Dogs, cats, horses, sheep and the host family accompany you in and around the garden.
A fancy mansion with an interesting history and a White Guide restaurant will be your home a third night. Expect top class cooking.
A fourth night, your sleep by the river of Klarälven, close to everything you want to explore in this residencial town.
In a beautiful mansion among magnificent oaks, you hear the wingspan of history echoing between the walls. Maybe you will sleep in the same room that Nicole Kidman had when she stayed here. If you are restless, there is a nice running trail and a relax area. In one wing there is said to be a ghost - the previous owner strikes again?
After milk production and later on pig breeding and meat production, the owners today focus entirely on grain and horticulture, which provides the shop and restaurant with locally produced food. Your hosts are passionate about contributing to a vibrant countryside and think sustainability at all levels. Stay calm and rural outside the city noise with nature close at hand. If anyone would like to paddle, this is the place near the hotel.
The seventh night you stay near a world-famous aqueduct where you will experience the unique meeting between country road, railway and waterway. Engineering at its best.
You choose where you wish to start. If you need advice, contact us and we will suggest good starting points depending on your own needs.

Day 1 Karlstad - Kristinehamn 42 miles/68 km

A fairly flat, easy-to-cycle stretch in the most densely populated area of ​​all during the week. You cycle through Karlstad and pass the delta of the Klarälven river. After the last outskirts of the residencial city, farms and cottage areas dominate the landscape. Heritage sights, whiteguide restaurants and nice little beaches take turns.

We can divide the Kristinehamn-Lidköping section into four stretches instead of two, so that you cycle 21 miles/40 km per day instead of the double. If you do so, the trip will be two days longer and you pay a supplement for two extra nights.

Day 2 Kristinehamn - Sjötorp 52 miles/85 km

The day starts on a lovely stretch full of jetties with leisure boats, and continues out to a giant Picasso statue with a fantastic view towards Lake Vänern's horizon. It will be another flat trip in a distinct agricultural landscape on cycle paths, gravel roads and country roads, both inland and along Lake Vänern and a smaller lake with good opportunities for swimming. A deer farm with a game store is a nice stop, before cycling through a beautiful oak alley and on rural gravel and forest roads. Visit a creative craft studio for wool work before you reach a reconstructed, very beautiful old church - a magnificent example of medieval architecture and a perfect place for picnic lunch.

You can see the salmon ladder for the rare local Salmon only found in Lake Vänern. In the fashionable community nearby, there is a good fish restaurant if you skipped picnic by the church. Göta Canal ends in Vänern and you can scout the boats going up and down through the locks. Göta Canal starts on Sweden's east coast and from Vänern you can continue via Trollhätte Canal to Gothenburg on the west coast. Continue to your exclusive and interesting accommodation where we recommend you to have dinner.

Day 3 Sjötorp - Mariestad - Kinnekulle - Lidköping 50 miles/81 km

An idyllic day in lush forests, past magnificent manors, holiday villages, farms, small villages and two pleasant towns. Welcome to the Province of Västergötland! This is the County of our Crown Princess Victoria. It will be easy cycling today as well. Visit craftsmen in their open studios. Lunch is recommended in an orangery. You follow in botanist Carl von Linneaus' footsteps during his journey to Västergötland in 1746. Pine forest, oak groves and waterfalls that plunge into Lake Vänern are mixed with an extrordinary rich flora. In spring and early summer, the smell of blooming ramson is present everywhere. A delicious choice in soups and a local speciality.

Day 4 Lidköping - Vänersborg 34 miles/55 km.

The flattest stretch of all passed some of Sweden's most fertile soils with large farms. Churches are abundant and you can have the next church spier as an intermediate goal for the next mile. You follow cycle paths and small paved country roads.

Day 5 Vänersborg - Håverud 41 miles/66 km.

You cycle through a narrow ravine between plateau mountains before reaching "Little Paris". Perhaps this is the most beautiful day of all and you enter the extremely varied, little-forgotten province of Dalsland. Dalsland is called a Sweden in miniature, where almost everything in Sweden is found. Deep forests, mountains, fertile plains, lakes and archipelago and last but not least: lots of berries for cyclists. As long as they don't grow to near a house, you are allowed to pick them for free! This stretch is mostly paved but a short part follows a small forest road. A country road winds its way along the headlands of Lake Vänern, surprisingly lively and inhabited. After the town of Mellerud, the last miles are very scenic.

Day 6 Håverud - Säffle 40 miles/65 km.

The engineering that combines car road with canal and railway in one place is impressing. Continue through Dalsland's magical forests on small, windling, hilly paved and gravel roads. If you like hilly roads, this is your day in Ronja and Birk's land (from Ronja The Rubber's daugher by Astrid Lindgren). In the afternoon, you step into the literary Province of Värmland where many well known authors and poets were born.

Day 7 Säffle - Karlstad 34 miles/56 km

Famous shrimp sandwiches, Sven-Ingvar's musical band, mooses and slag stone houses characterize this day, run through cultural landscapes and forests. You pass a market hall with organic meat from nearby farms and continue to a town with seven works of art in memory of Sven-Erik Magnusson, singer in the musical group Sven-Ingvars. The municipality is very engaged in nature, culture and design.

Saint Lucia in Grums
The first folks settled here in Värmland when the ice retreated to the North. According to legend, there was a castle in the 8th century strategically located by a bridge that you cross. The greedy wife Rangela demanded customs from everyone coming by land or sea. Nobel Prize winner Selma Lagerlöf writes about Rangela and her merciful niece Lucia in Lucia's Legend.

In the evening, you approach a region whose goal is to be Sweden's most hospitable area. The authors and poets Nils Ferlin, Gustaf Fröding, Göran Tunström and Inger Sandberg were born in this pleasant, residencial city, which the locals are proud of and characterized by. A woman called Sola (Sunshine) ran an inn here and was always in a happy mood.

Day 8 You will be Fit as a Fiddle!

Maybe you want to visit some very good outdoor and indoor museums before you leave. You will be full of wonderful experiences, new knowledge, and Swedish friends. The deepest impressions are probably from meeting people along the way.
During more than 10 000 years, Lake Vänern has been shaped and filled with life. With its strategic location, it has been a hub for transport. Its wild nature and lovely people will welcome you with open arms.

In the heart of Scandinavia, between Sweden's and Norway's capitals, you find Sweden's largest lake - and Europe's third largest after Ladoga and Onega. The water is very clean, you can drink it straight from the lake. It is indeed a place where memories are created.

Three provinces and 13 municipalities coexist around the inland sea. Here you find Europe's largest freshwater archipelago with just over 22,000 islands and islets . The lake is a swimming paradise with fine sandy beaches and shallow bays. No less than 38 species of fish live in the Lake Vänern.

A beautiful, trustworthy piece of Hope
The name Vänern is considered to originate from the Old Swedish vænir, with connections the words from 'hope' and friendly 'trustworthy', 'beautiful'. Simply a beautiful and trustworthy piece of Hope. As usual, there is more than one interpretation. The name may be several thousand years old and linked to unknown words today.

Dalbo Lake and Värmland Lake
The average depth is 90 feet/27 meters and at its deepest point it is 318 feet/106 meters to the bottom. Lake Vänern is divided by an archipelago between Kållandsö in the south and Värmlandsnäs in the north in a western and an eastern part. The western part is called Dalbo Lake, and the eastern part Värmland Lake.

Lake Vänern is part of the waterway Göta älv - Vänern - Göta Canal - Baltic Sea and is connected to the North Sea and Skagerack near Gothenburg through Göta älv and with Sweden's second biggest Lake Vättern at Karlsborg via Göta Canal.

The rivers of Klarälven, Gullspångsälven, Upperudsälven, Byälven, Norsälven, Lidan and Tidan all flow into Lake Vänern, while there is only one outlet via Göta Älv to the sea on Sweden's west coast.
What physical level is required?
Expect long wonderful days, 6-7 hours of cycling per day. Karlstad-Mellerud is flat, Mellerud-Karlstad more hilly. If you are at different levels, choose an e-bike for the less fitted one.

What do I need to bring? Two months prior your tour, you will receive an equipment list. Your luggage fits in two light, waterproof panniers.

Is my luggage transported by car? No, we tested the entire route with two panniers and find luggage transport unnecessary.

How do I book my trip to Lake Vänern? You will get detailed information on how to book your trip to the start and from the finish.

It is too long for me
Add extra nights or ask us for a tailormake trip.

Can I take the train or bus if I get tired?
Yes, June 12-Augusti 13 you can book your bike for free on buses Karlstad-Krstinehamn and Åmål-Säffle-Karlstad. On trains Mariestad-Lidköping-Vänersborg you can take your bike along for 20 SEK (2 euro) all year around. Normally also Mellerud - Säffle but due to a damaged bridge, this is not possible 2023.
The Right of Public Access
The Swedish "Allemansrätten" comes with an equal emphasis upon the responsibility to look after the countryside; the maxim is do not disturb, do not destroy, leaving what you visit as it looked when you arrived.
The Right to Public Access in Sweden is the general public's right to access public or privately owned land, lakes, and rivers for recreation and exercise.

Allemansrätten gives you the right to access, walk, cycle, ride and ski on any land, except for private gardens, the immediate vicinity of a dwelling house and land under cultivation. Restrictions apply for nature reserves and other protected areas.

It also gives the right to pick wildflowers, mushrooms and berries. Swimming in any lake is permitted unless explicitly forbidden. Visiting beaches and walking by a shoreline is permitted, providing it is not a part of a garden or within the immediate vicinity of a residence.

Small campfires are generally permitted, but in some periods banned by local authorities due to fire risk.
8 days/7 nights
Dates: May-September.
995 Euro.

When you have sent the filled-in booking form, we will send you a confirmation of the booking and an invoice of the booking fee which is 400 Euro. The final payment (the price of the tour minus already paid booking fee) is due two months prior the tour and we will send you an invoice well in time by e-mail.

If you book the tour later than 60 days prior departure, you will get an invoice of the whole tour.
When you have sent the filled in booking form below, you will get a confirmation and an invoice of the booking fee which is 400 Euro. The final payment is due two months prior each tour (the price of the tour minus the already paid booking fee). We will send the invoice for the final payment to you by e-mail well in time. If you book the tour later than 60 days prior departure, you will get an invoice of the whole tour. Everyone who books the tour must pay the booking fee 400 Euro upon receiving the invoice.

General Conditions
Information about how we handle personal data

Fields marked with a red star* are compulsory.
Texts and photos: Copyright Globalrunners. All rights reserved.