Marcialonga - Toblach Cortina on skis
In total, Dolomiti Superski covers 50 ski resorts, with about 1,200 km of slopes and well over 400 lifts. There is no where else you will see this promise: Guaranteed snow on 840 km of slopes and 80% sunny days!
Visma Ski Classics made investigations whether it would be possible to move from one race to the next over the mountains. No one had tried, but Globalrunners' CEO took the chance. It was a great way to transport yourself between two races.

The route had to be altered compared to the one described in the article in Visma's magazine, but now we now know how to take the perfect way in the Dolomites between Marcialonga and Toblach Cortina. We have added an extra clou: One part will be carried out by horse-lift and you will get the privilege to ski a 8,5 km long piste.

Welcome to join us in this unfortgetable adventure! You collect your down hill equipment at the start and leave it at the finish. Your luggage (cross country skis and bag) is trnasported by car while you ski.
Date: Tuesday after the race every year.
Starting point: Moena Square.
Luggage drop-off: Monday at 4 pm or earlier.
End of Tour: Cortina.
Qualifications: You should be able to ski red slopes without any problem.
Difficulty: No black slopes in case you don't take alternative slopes where possible.
Insurance: You have to have your own insurance covering down-hill skiing, medical costs, etc.
Min/max participants: 5/20.
Last day to apply (if not full before): December 31 every year.

Transport of luggage (cross country skis and bag) from start to finish.
Ski pass One Day Dolomiti Superski (55 Euro)
Rent of ski equipment (down hill skis, boots, poles and helmet)
Horselift
Shuttle taxi service where it is not possible to go on skis.
Local buses Toblach-Cortina and Canazei-Moena.
Tourleader and Service by Globalrunners
If you wish to stay in a Rifugio at 2800 meters above sealevel with 360 degrees views over the magic Dolomities, we will arrange this at 50 Euro extra in a dormitory. Dinner at the Rifugio is recommended - wherelse would you eat? The dinner is an additonal 24 Euro and you will need a 2 day Ski Pass for the next day as well. You will never forget this experience and if you have the time, we do recommend it.
Any Questions? Please contact us.
The price is 250 Euro per person. We wish we could offer this day for free but with all the logistics with luggage transport, expensive Ski Pass, ski drop-off in Cortina, etc, this is the deal. It will be a unique day in your life!

Everyone able to ski red slopes is welcome. You do not have to participate in Globalrunners tours to Marcialonga and/or Toblach Cortina.
Thanks for this fantastic idea. This can be the real future of skiing.
Angelo Corradini,
President of Marcialonga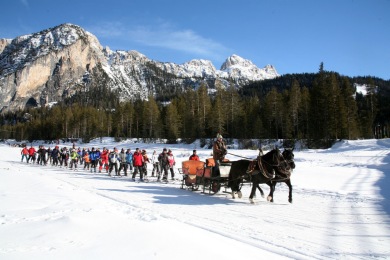 Dolomiti Superski is simply amazing
Dolomiti SuperSki is one of the largest down-hill ski areas in the world. A harmonious carousel with 12 skiing areas and state of-the-art lift facilities with a good 1,200 km of daily groomed slopes, and sunny slopes you just can't wait to get your skis gliding over. You'll be spoilt for choice, as there's a slope for everyone: from the easiest one, for beginners following by ski instructors, to places of daring you'd never thought of going before. Simply amazing. The slopes are snowsafe with an altitude of 1200-3269 meters above sealevel.

Sella Ronda with Dream Views
The unique "Sellaronda" is one of the most spectacular skitours in the world. It runs over the four Dolomite passes around the Sella massif. It passes through the Ladin valleys of Val Gardena, Alta Badia, Arabba and Fassa. In total, 40 kilometres of tours – 27 kilometres of those offer pure, unadulterated skiing fun. We will use parts of Sella Ronda during the Via Dolomiti Day.

Price per person: 250 Euro.

When you have sent in the filled in booking form, you will get a confirmation and an invoice of the price for Via Dolomiti which is 250 Euro. If you have to cancel the tour (for whatever reason) before December 1, you will get your money back except for an administrative cost of 50 Euro plus eventual bank transfer costs if any. Cancellations after December 1 for whatever reason are not refundable.

Information about how we handle personal data
A red star* means it is a cumpulsory field/question.