How to Tour Ski and the Swedish Right of Public Access
As we are tempting you to participate in Globalrunners Tour Skiing Adventures in Sweden, perhaps you have some reflections on how this is made possible? Below we share some of our general experiences, and hope they will bring you some clarity.

Swedes get much of this already at the Kinder Garten, as children often are brought out into the nature to camp, to have an outdoor meal, to pick berries, flowers and mushrooms, so nature is in everyone's way of living. In school, all children read and learn about the unique Right to Access, so here´s our crach course on what, why and how in the Swedish wilderness.



As mentioned on the tour site, tour skiing differs from cross-country skiing. When cross country skiing you usually use ski trails that supports your skis to move straight forward in a fast pace.

Tour skiing is done on the snowy surface as it is, sometimes you enjoy by wind hard-packed snow, sometimes you find it icy, and sometimes you must pass deep snow. Tour skis are wider, heavier and are supported by steel edges helping you not to slide on downhill terrain. The technic is like trekking, helped with some sliding on flat terrain. Your speed is somewhere around 3-5K per hour on average, of course less uphill and faster down-hill. There are some techniques you may use which you can study in this film by Norwegian Johann Asbakk. The speaker voice is in Royal Norwegian, but you get the grip.

Equipment-wise you might gain some triceps power adjusting the length of your poles. Extend on steeper uphill, and shorten when flat or downhill. If you haven´t tour skied before, we recommend you to invest some hours on your arrival day in Abisko to test your equipment and try the techniques shown in the video.
Route, leg and stretch between the huts
The Kings´s Trail stretches thru roadless country. There are no buildings to guide your orientation. Sure there are landmarks like mountain tops and frozen lakes, but not easily recognizeable.

So how to find your way to your overnight destination? You follow the cross-marked signs.
When mist or snow dims the visibility, you keep your eye only on the next sign. In super-rough weather, the tour leader sets a compass course for the group, and all skiers go together in line. As there are no cell phone support, you cannot use your digital maps to determine your position.

We are occasionally supported by trail-signs stating distances and directions. We will memorize them, the distances they indicate, and use them as references when plotting out our position.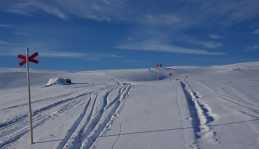 The Swedish Tourist Association, provider of our overnight huts, are also the over-arching provider of the Swedish youth hostels. There are some routines that comes with the stay we have to cope with.

Arriving to the hut
We are warmly greeted by the hut hosts often with a warm cup of syrup/juice. We sign in and are shown to our room or bed. We are also asked to book a slot in the sauna (due to Corona pre-cautions), and perhaps do our part of the outdoor assistance like chopping wood, fill up the water buckets from the lake (hopefully there´s a hole in the thick ice), and perhaps feed the indoor stoves with logs.

Your ski boots stay at the front door, sometimes there are slippers you can use when staying indoors. To your service there is alco gel to use frequently when indoors.

Resttime and kitchen
We change clothes (hurray!) and rest a bit before starting to prepare our dinner. There are often a dryer room at the hut, where you hang your sweaty clothes and boots overnight. Use it, and your room will smell better during your stay!
You prepare your bed, put linen to the mattress, pillowcase to the pillow, dress the blanket with a travel sheet. There is a self-catering procedure where you are assigned to a stove by the hour. You cook, you eat, relax and do your dishes and clean up your kitchen space. Due to Corona restrictions, the main room is not to be used as a common area the winter of 2021, so socialising, reading and relaxing is directed to your room.

Loo
The loo is located some 30-50 meters away from the lodging. Men have a separate space for their smaller needs, also in nearness to the loo. A headlamp or a torch helps you find your way when dark.

Checking out
During breakfast, our hut hosts will bring us todays weather report that helps you out with how to dress for the day, and prepare you ski wax. After your morning procedures, breakfast, packing and cleaning up, you are ready to leave, perhaps with some comments of your stay in the hut guestbook.
The Right to Public Access
...is the general public's right to access certain public or privately owned land, lakes, and rivers for recreation and exercise. The right is sometimes called the right of public access to the wilderness or the "right to roam". In Sweden, Scotland, Finland, Iceland, Norway, Estonia, Latvia, Lithuania, Austria, the Czech Republic and Switzerland, the freedom to roam takes the form of general public rights which are sometimes codified in law.

The access is ancient in Northern Europe and has been regarded as sufficiently basic. It was not formalised in law until modern times. However, the right usually does not include any substantial economic exploitation, such as hunting or logging, or disruptive activities, such as making fires and driving off-road vehicles. Outside of Europe also Canada, Australia and New Zeeland land is open to public for recreational use. In England and Wales public access rights apply only to certain categories of mainly uncultivated land.
In Sweden allemansrätten (lit. "the everyman's right") is a freedom granted by the Constitution of Sweden. Since 1994 the Instrument of Government says that notwithstanding the right to own property "everyone shall have access to nature in accordance with allemansrätten".

In practice, allemansrätten is defined as actions that are not crimes, will not make a person liable to pay damages, nor can be prohibited by any authority. As in other Nordic countries, the Swedish right to roam comes with an equal emphasis being placed upon the responsibility to look after the countryside; the maxim is do not disturb, do not destroy.

Allemansrätten gives a person the right to access, walk, cycle, ride, ski, and camp on any land, except for private gardens, the immediate vicinity of a dwelling house and land under cultivation. Restrictions apply for nature reserves and other protected areas. It also gives the right to pick wildflowers, mushrooms and berries (provided one knows they are not legally protected), but not to hunt in any way. Swimming in any lake and putting an unpowered boat on any water is permitted unless explicitly forbidden. Visiting beaches and walking by a shoreline is permitted, providing it is not a part of a garden or within the immediate vicinity of a residence.

To better protect access to water and the right to walk along beaches, it is since 1975 generally not permitted to build a new house near (generally 100 m) from a beach and/or the shoreline.
Fishing remains essentially private, apart from on the biggest five lakes and the coast of the Baltic Sea, the Sound, Kattegat and Skagerrak. It is permitted to drive a car on a private road unless explicitly signposted. Small campfires are generally permitted, but in some periods banned by local authorities due to fire risk. It is allowed to put up a tent on any uncultivated land for a night or two.[

Exercise of the rights is overseen by the County Administrative Boards, which can, for example, force the removal of a fence if it obstructs access to areas that are important to the allemansrätt. Many Swedish people consider this to be a form of legacy or human right.

So, with the Allemansratt in mind, we are free to access the land of the North on our tour skis. On our tour, we will not put up a tent, we will not pass close to private houses, but we are entering the reindeer lands of the Sami people. Most likely, flocks of reindeers will pass our route. Especially in late winter, the calves are not to be separated from their mothers, so we watch them from distance not to disturb.
That was it, we hope you feel more comfortable of the Ski Touring procedures, and that we have tempted you to realize your tour to the northern wilderness. See you in Abisko!

Anders & Ellika